Segmentation processes can take up a lot of time when you want to create a targeted campaign. In the previous articles, we outlined different options on how to segment in Salesforce Marketing Cloud SFMC) using data filters and SQL queries. 
However, neither of these methods can be called the ultimate solution for segmentation in SFMC. Why? Because these methods either don't provide advanced methods or require technical skills that you may lack. What would be the solution? For instance, DESelect – an addon that runs inside SFMC and intuitively combines data on the fly. There is no more need to learn SQL or ask your colleagues to create queries for you. DESelect is an exceptional solution for a top-notch segmentation. 
A 3-step guide: How to filter on Data Extensions with DESelect
In order to create a targeted campaign with information from various data extensions in DESelect, you should start with creating a new selection (think of this as a "segment").

Step 1. Selection Criteria
Firstly, you have to choose which DEs you want to filter. For instance, you want to create a new segment of prospect contacts linked to their companies. Normally, in order to do that, you would rely on SQL to do this type of segmentation but with the drag-and-drop interface of DESelect, there is no need to write a SQL query for that.
Choose the DEs from the available ones from SFMC through drag-and-drop

Repeat the same action with the next DE

Choose the relationship between DEs: with/without matching, with matching, with all matching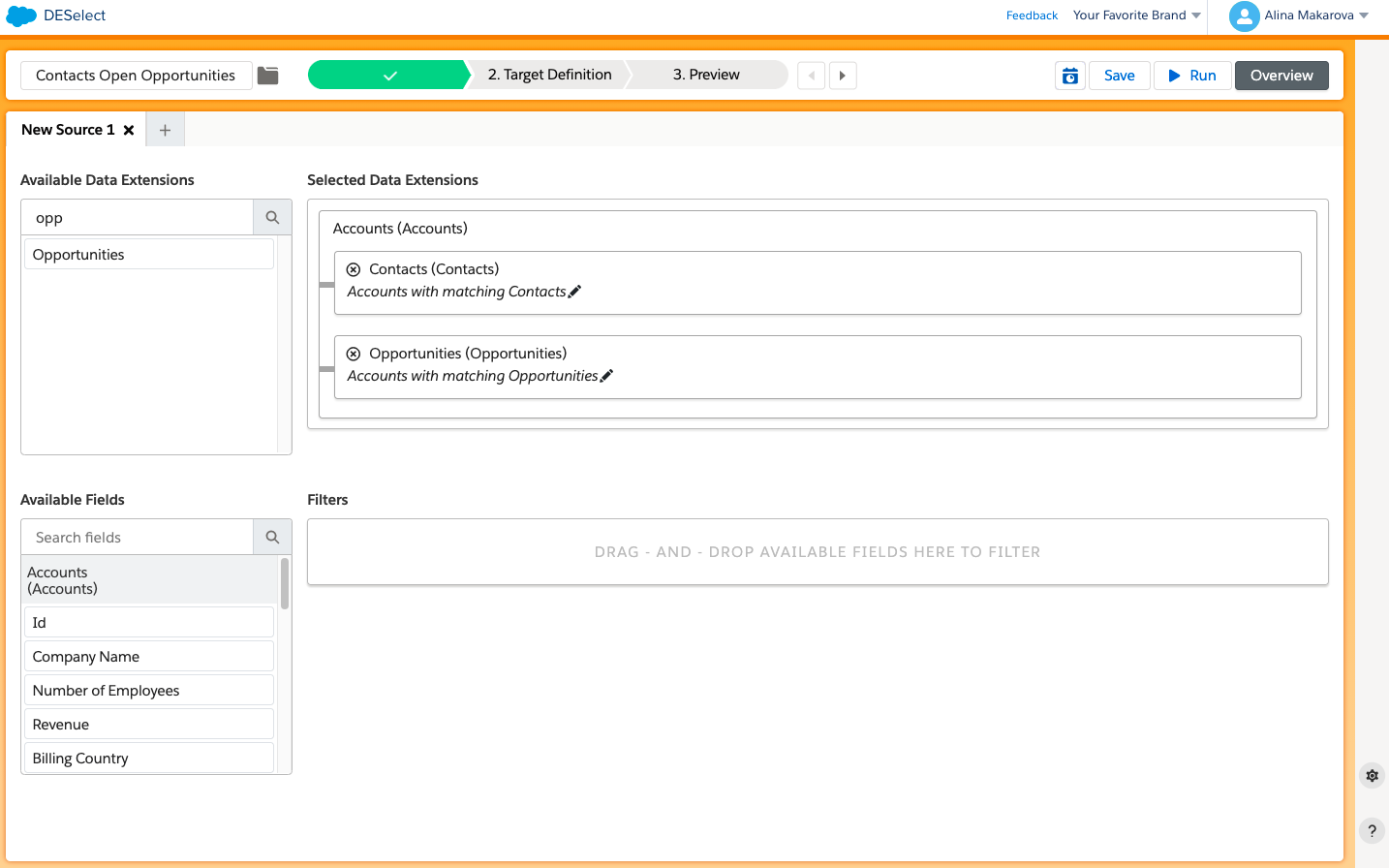 At the bottom, you can see that all the fields from both of your DEs are extracted and placed in the 'available fields' section. Now, you can choose to filter on as many fields as you want to. 
Drag-and-drop available fields to the right (e.g. for our campaign we need accounts which field 'Type' matches the 'prospect' criteria, and are coming from the US)
Step 2. Target Definition
In this step, we need to choose our target DE. There are a few options at this point: we can create a DE on the fly or choose an existing  DE to populate with data from our new selection.
If you want to create a DE in the DESelect environment, you need to choose the fields that you want to have in your target segment. 
Drag-and-drop from the available fields on the left to your desired DE on the right (e.g. for this future campaign we need: Account Id, the Name of the Company, Type which equals Prospect, and Email Address)
Before saving your new selection, you can preview the resulting data extension and how many records it would contain,  to see if you want to add any changes. 
Hit Run Preview

Check if the fields are populated correctly
Once you are happy with the preview, you can run your selection and it will automatically populate the target DE in your SFMC.
No need to learn SQL anymore, enjoy a convenient drag-and-drop interface and save precious time on segmentation using DESelect, book a demo here.
Latest Articles
Consumers love it when a brand suits their needs and is personalized to their preferences. If you excel at creating a highly individualized experience for your audience, you'll win their hearts and build successful campaigns. This is where hyper-personalization comes into play. What is hyper-personalization? Hyper-personalization is an advanced marketing strategy that uses AI and […]

September 25, 2023

When it comes to large-scale operations, the marketing teams at enterprise businesses have unique needs and challenges that demand a distinctive approach. So, what sets enterprise marketing automation strategies apart? Let's dive into three significant considerations that data teams must prioritize. 1. Integrating Complex Data Streams The sheer volume and variety of data enterprises handle […]

September 21, 2023

In the digital age, the emphasis on curating an immersive digital customer journey has never been more vital. It's not enough to merely attract visitors. Brands must foster an integrated and seamless experience across every touchpoint and channel. Let's delve into the strategic art of enhancing each interaction and touchpoint within your customer journeys. Understanding […]

September 21, 2023

You're a creative marketer hot on the heels of our deep dive into foundational email marketing techniques, right? Well, let's shift gears a bit. You've got to grips with 8 of the best types of email marketing campaigns for retail segments, but there's always room to refine, innovate, and surprise your email audience. Let's journey […]

September 7, 2023